With so many beautiful things around us, a cycle, walk or train journey down can help you find hidden gems that will soon become new favourites.
---
Bus
Guided busway
The guided busway connects Huntingdon and St Ives to Cambridge, travelling through South Cambridgeshire. It's a speedy choice, with much of the journey off-road. You can purchase an individual dayrider ticket or a family dayrider. Please see the latest prices on the busway website.
The busway has stops in Histon, Oakington, Longstanton, Swavesey and Fen Drayton. The 915 bus connects the guided busway to Melbourn, Foxton and Harston.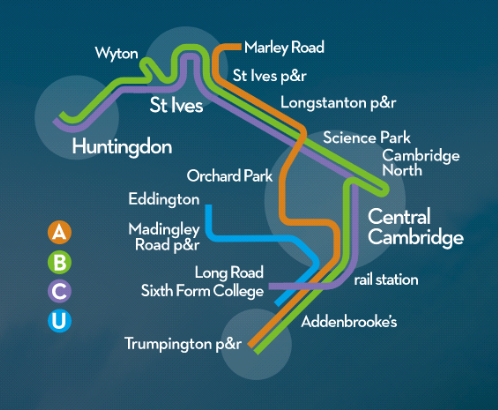 Local bus services
Local bus providers in South Cambridgeshire include:
A2B – running services through Sawston, Duxford, Bassingbourn, Shelford, Orwell and Ashwell.
Whippet – running services from Papworth Everard through Cambourne to Cambridge and via Boxworth, Bar Hill, Madingley and Coton to Cambridge.
Stagecoach – running services across South Cambridgeshire (see map below).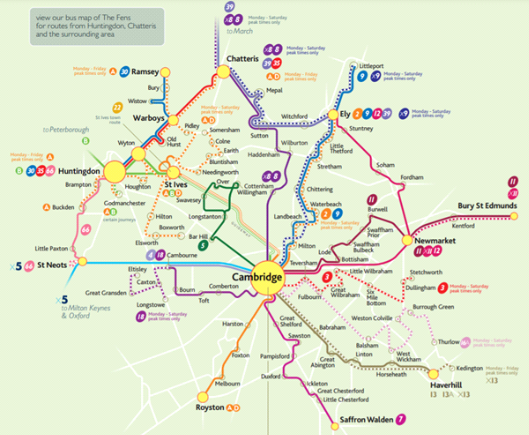 Park and Ride
Cambridge city is ringed by five Park and Ride sites. The fare is around £3 return to the city centre, and up to three children under 16 go free with each fare paying passenger.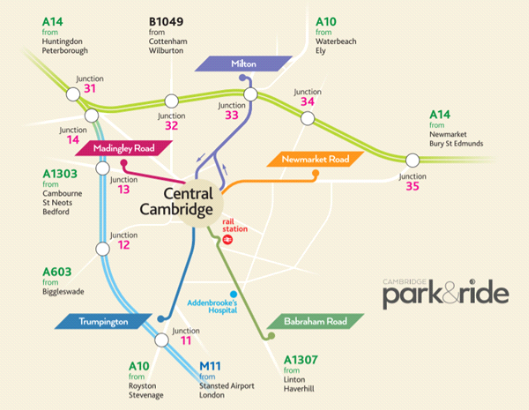 ---
Cycling
South Cambridgeshire is ideal for cycling, being mainly flat. However there are some excellent challenges for more experienced cyclists, such as Chapel Hill between Barrington and Haslingfield, and the Gog Magog Hills near Shelford.
The following cycle routes run through South Cambridgeshire:
---
On foot
We have miles of footpaths and over 100 villages to explore. South Cambridgeshire is a great place for walkers, whether you like riverside, hills, countryside or history. We have some ancient long distance paths such as Fleam Dyke, Harcamlow Way and the Icknield Way. For those wanting a gentler stroll we have some lovely parks and green spaces available.
---
Rail
South Cambridgeshire is easy to explore by rail, we have train stations at:
For things to do in Meldreth, Shepreth and Foxton, see Meldreth, Shepreth and Foxton Community Railway Partnership.
Plan your train journey with National Rail.
---
Road
The district of South Cambridgeshire completely surrounds Cambridge City and has a well-established road network.
The A10 runs north to south
The A14 runs east to west, in the northern part of the district
The A505 runs east to west across the southern part of the district
Access from London is via the A10 or M11
Car hire
South Cambridgeshire is very accessible by public transport but if you need to hire a car for a day or two, we have the following options:
Taxi
There are plenty of taxi services available for getting around South Cambs. You can search for local taxi companies on Yell.com or other business search sites.